About
Earth First
Sustainable, Reliable, and High-Quality Paper with a Climate Neutral Footprint and Plastic-Free Packaging
This environmentally responsible paper is the perfect choice for the education and commercial sectors. With its climate neutral certification and plastic-free wrapper, it reflects our commitment to sustainability while delivering exceptional print results.
Experience outstanding print quality with HP Earth First. Its advanced engineering ensures jam-free performance, saving you time, money, and frustration.
Proven
reliability
Invest in reliability with HP Earth First.
Backed by HP's reputation for excellence, this paper provides consistent performance, ensuring that your documents are crisp, clear, and professional every time. With its jam-free performance, you can minimize downtime and maintenance costs, ensuring a smooth and efficient printing process.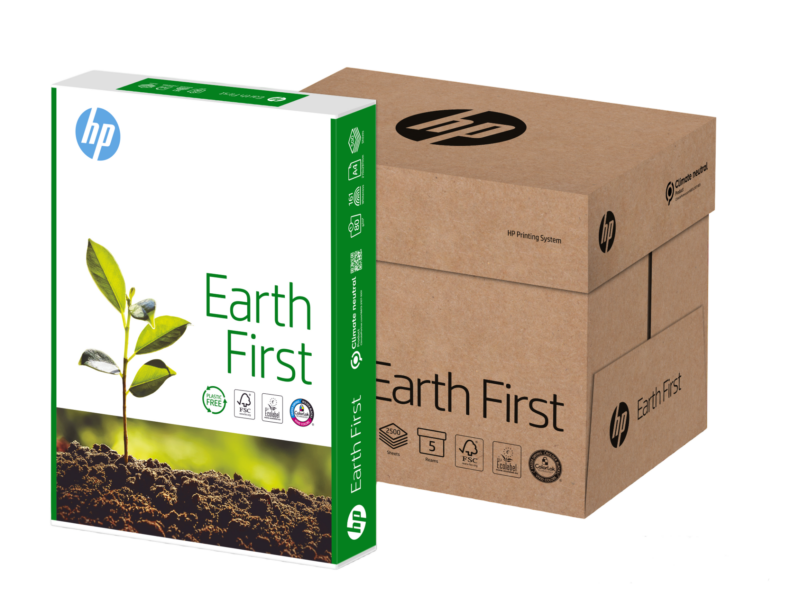 Invest in a
Greener Future
Make the right choice and protect the future
By choosing HP Earth First, you contribute to a greener future. It is climate neutral, meaning it has a minimal carbon footprint, making it an environmentally sustainable choice for businesses and institutions committed to reducing their impact on the planet.
The Benefits of
Earth First
A4
80 GSM
Plastic free wrapper
500 Sheets per ream
Climate Neutral
Reliable
Not sure what paper you need? Speak to our friendly team who are happy to help.
Get in touch